How to find the best recruitment agency?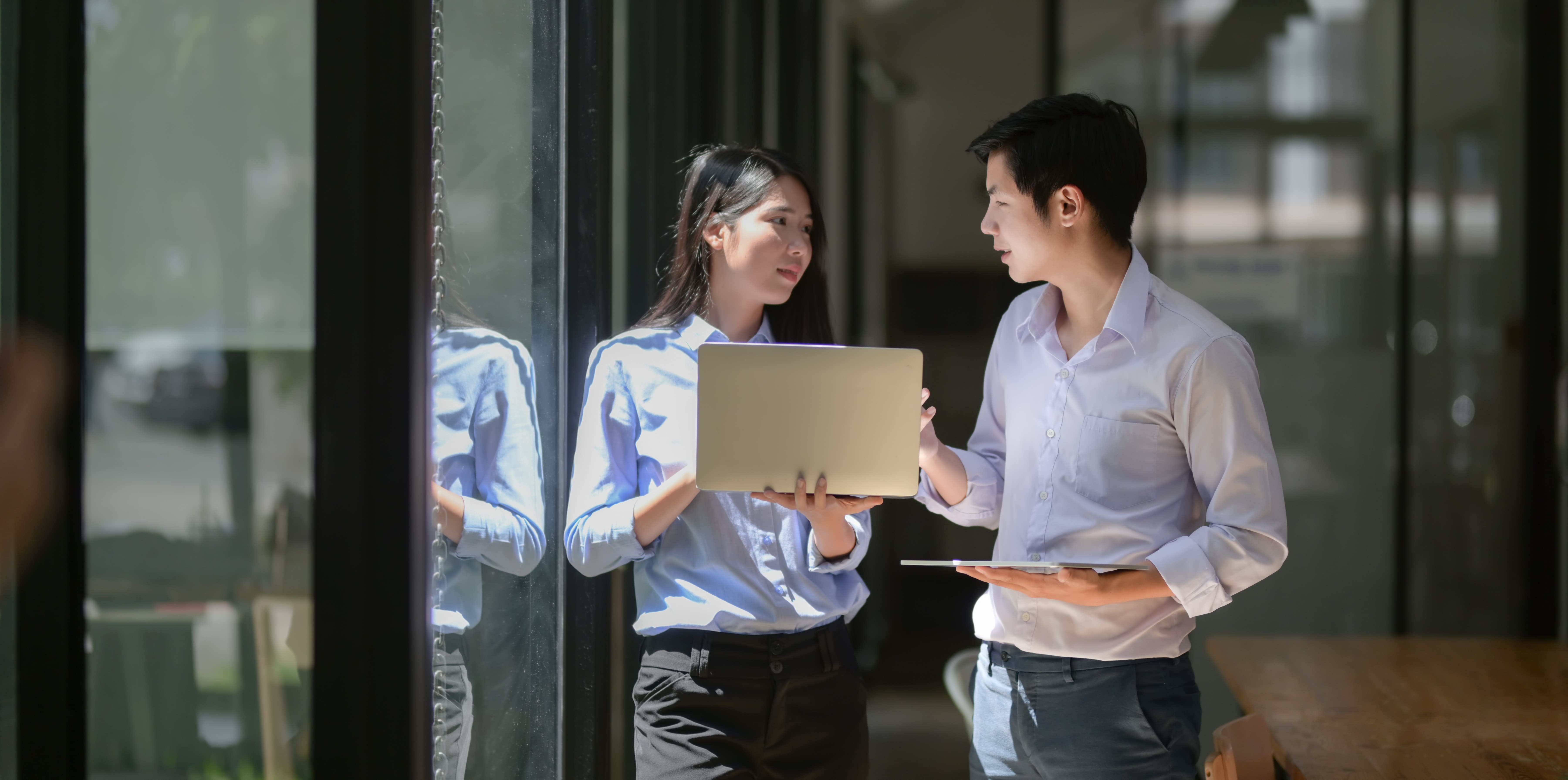 So, you've identified that your organisation requires an additional set of skills to help with a specific project, to facilitate growth or to solve a problem - none of your existing team members have the capacity to upskill or to take on additional tasks. In short, you need to hire a new employee, but you don't have the internal resources to facilitate this crucial talent acquisition process.
At this stage in the hiring process, you will probably be thinking about eliciting the expert services of a recruitment agency. What type of recruitment support you need will depend on your individual situation. With so many options available to you, how can you be sure you're making the right decision and choosing the best recruitment company that will help you hire the right talent?
We've compiled everything you should consider when making that selection so that you get it right the first time round, saving you precious time and money.
---
---
1. What is a recruitment agency?
Recruitment agencies are essentially workplace matchmakers. They connect organisations that are looking to hire with talented professionals who are considering a career change, working closely with both sides to ensure desires and requirements are met.
When a hiring organisation notifies their recruitment agency that they are looking to fill a job vacancy, the dedicated consultants will then get to work sourcing suitable candidates (but in many instances they will already have people in mind).
Recruitment agencies and recruitment consultants help streamline the hiring process.
2. How do recruitment agencies work?
It's easiest to think of a recruitment agency as the go between for you (a hiring organisation) and your next employee (a job seeker).
A recruitment agency's purpose is to find the right candidate for your company, as fast as possible. Most agencies are able to do this because they have built deep networks of highly qualified professionals in the respective industries they cover.
Recruitment agencies are often fully equipped with the best tools (which they pay a premium to use), know what tempts passive job seekers to apply for roles, and have existing networks of professionals in your industry.
Once they have found you a new team member and you successfully hire them, you will pay a fee. That amount will equate to an already-set percentage of the employee's salary (but it's not deducted from the person's salary, that figure is just used to calculate the cost).
But they don't just find you one person and then move onto the next assignment. A big part of their jobs is to foster long-term relationships with hiring businesses and talented professionals so they cultivate a strong list of contacts over the years - repeat business is great business!
3. How to choose the right recruitment agency for you?
Working with a recruitment agency will give you an external perspective on not only your potential new employees, but your hiring process as a whole - this places more of a focus on the candidate experience, which is incredibly important at the moment.
The agency that you decide to partner with will depend on the area you are trying to hire a professional for. Different recruitment agencies specialise in different professions, and will therefore have whole teams who specialise in specific industries.
This means they have extensive networks, know what to look out for in your ideal candidate's profile, and understand exactly what motivates professionals in that area.
When selecting an agency to partner with, remember the following:
Always clearly explain your hiring needs.
Interview them as if you're hiring a team member - you want to make the right choice!
Does their experience match your requirements?
Do their fees match your budget for the hire?
4. What are the types of recruitment agencies?
There are a number of different options that you can choose from in terms of type of agency. Which you go for will depend entirely on the specific requirement you have for any recruitment project.
For permanent hires, a contingent recruitment agency will be the best choice
For highly skilled contractor hires, a contract recruitment agency is best
For senior hires, you should seek the help of an executive search agency
For short-term hires then your choice should be a staffing recruitment agency
For large-scale recruitment projects of numerous people, Recruitment Process Outsourcing is the most efficient approach
Did you know? Morgan McKinley offers all of the above!
5. Do you need to use a recruitment agency if you have an internal team?
Internal talent acquisition teams are great as they are working with the organisation every day and can offer an unrivalled understanding of who will be the best fit for an opening. But whilst internal TA can initially seem like a more affordable alternative compared to partnering with a recruitment agency, it can often end up having more costs associated with it that weren't originally accounted for.
Many organisations traditionally assign this responsibility to their HR department. But if that employee (or department) already has a long list of tasks, asking them to conduct 'talent research' could negatively impact their other responsibilities.
The next step, which is even more time consuming, is the construction of an appealing, accurate and inclusive job advert - this is crucial to ensuring the quality of applicants matches your expectations. You shouldn't be using standardised job descriptions; each vacancy should have a bespoke advert.
Related: Free Job Description Templates
Now comes the part where a top recruitment agency cannot be matched - distributing the vacancy (or vacancies) to appropriate job boards. If you were to upload your jobs to multiple job boards yourself, it would cost a significant amount.
6. What is recruitment exclusivity?
The key is in the name. Recruitment exclusivity is when there is only one agency working on a hiring project for a client.
In many instances, a hiring organisation will work with more than one recruitment agency in the hope of finding their new employee as quickly as possible. It sounds logical but often is not the best approach as it can result in the recruiters rushing to try and be the first to deliver you candidates in the hope of one getting hired and then they get paid.
Working exclusively with one agency means that they will focus solely on finding the right people to match your requirements and not worry about competing against the other agencies involved - don't worry, they'll still deliver on time!
7. What are the benefits of using a (specialised) recruitment agency?

The most immediate (and perhaps most attractive) benefit of using a recruitment agency is that it's one less time consuming item on your to do list. Because hiring a new team member is a serious commitment and such an important decision, it's inevitable that you will get fully engrossed if you're doing it all by yourself, heavily reducing the amount of time you will be able to spend on your actual job.
Eliciting the assistance of the best recruitment agency for your requirements will not only free up your working day, but will also give you peace of mind that several appropriate potential new employees will be presented.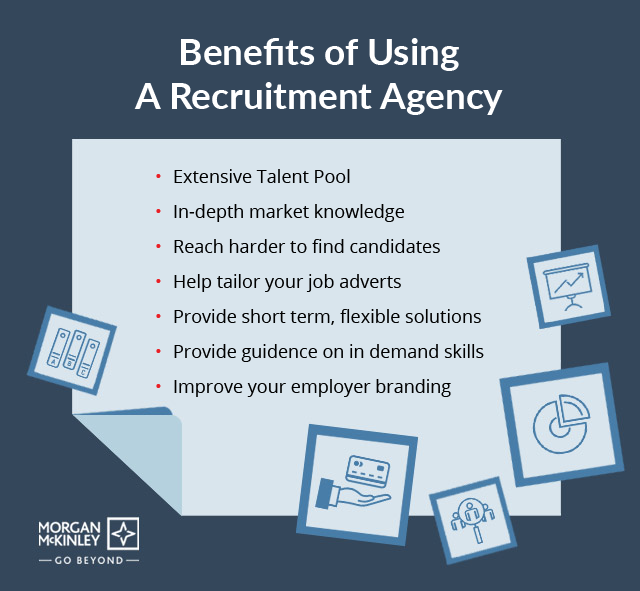 Top Recruitment agencies will be able to introduce you to suitable individuals from their extensive talent pool immediately, meaning you can hire much faster.
The best recruitment agencies and their specialist consultants will have in-depth knowledge of your market so know the type of people you will be looking for before you've even reached out to them.
They can also reach passive, harder to find candidates that you wouldn't otherwise be able to contact.
External recruitment agencies can help tailor your job adverts and your external value proposition in order to help appeal to talent.
Because they understand your requirements, those candidates put forward will be high-quality, meaning you don't have to conduct unnecessary interviews.
You may need a short term, flexible solution to help with a specific problem or to solve an issue. In this instance, a contractor or temporary worker is likely the best choice - recruitment agencies will have lists of contractors who they know will be able to start immediately and provide you with the specific skills you require.
If you're unsure of the exact profile of an employee you require, recruiters can offer expert advice around what makes candidates 'suitable' for any particular role.
Choosing the right recruitment agency can improve your employer branding - they're representing your company to job seekers, giving them an insight into what it's like working for you.
External recruitment agencies are constantly on top of the market and are able to give you access to talent not yet available. In addition to this, they can also give you extensive market information on the current trends within the talent environment.
Benefits of choosing a specialised recruitment agency
While all the above benefits apply to most recruitment agencies, there are a few more advantages of choosing a specialised recruitment agency over a generalised one:
? Quality of candidates: Specialist consultants can deep dive into talent without being saturated and spread too thinly across multiple sectors.
? Reduced time to hire: They have built extensive talent pools with quality, highly demanded candidates that they can tap into quickly to find the right people for you faster.
? Building relationships: Recruitment consultants will build key relationships with the same candidates who become more and more senior - continuously extending their talent pool.
? Market knowledge: Industry knowledge is key to finding the right talent fast. A specialist recruitment consultant knows what skills are in demand for a specific area of expertise, they know what candidates are looking for in an employer and they know what the market salary rates are and can advise accordingly.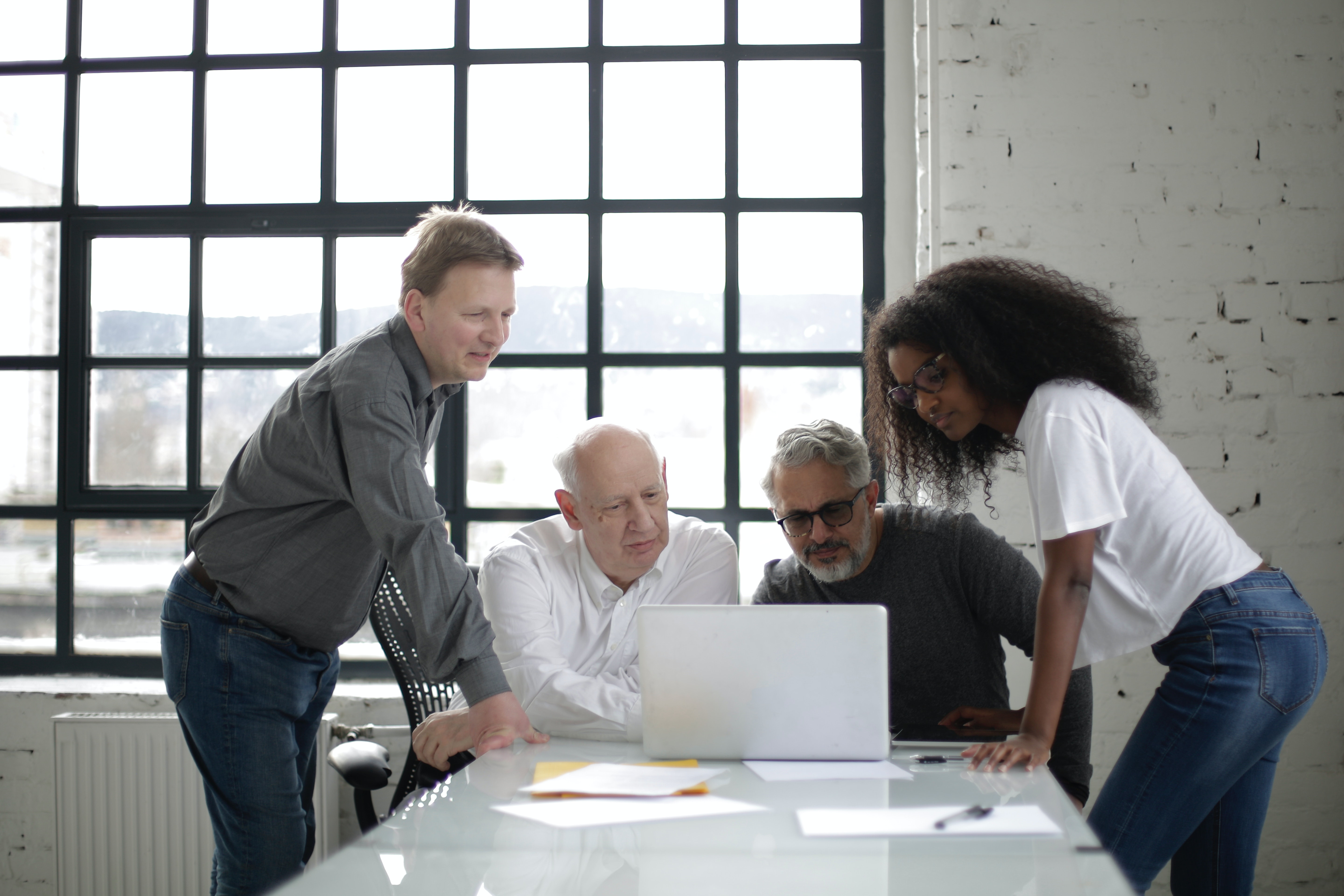 8. The costs and risks of making a bad choice
It's clear there are numerous positives of choosing a recruitment agency to help with your hiring needs. But what if you rush your decision and choose the wrong agency to partner with? The two biggest mistakes people make when using a recruitment agency is that they either pick the wrong one, or they don't engage properly in the process.
If you proceed with the wrong agency who go away and hastily source candidates, an offer is subsequently made and accepted, there is a real danger that the 'star candidate' won't be as good as you expected.
Sometimes, candidates look great on paper and come across well in an interview, but may not be the right cultural fit. Unfortunately, this happens more than you may think - and it can result in some significant cost implications.
If you have to re-do the entire process, from crafting the job ad and screening CVs, right through to conducting interviews, you've essentially doubled the time and costs of that one hire. Not to mention the increased stress of having to find someone else, time constraints around deadlines and deliverables, and the fact that a bad hire coming and then leaving can negatively impact the morale of your team.

Sometimes bad hires can't be avoided. Depending on the terms agreed, using a good recruitment agency will generally mean you can receive a refund or they will immediately start working to find you a replacement. Bad hires, like all mistakes, generally have something to learn from and will assist you (in some way) in making the next hire all the more better.

9. As an SME, what is the best type of recruitment agency to choose?
Whilst every hire for each business is important, the risks and dangers of getting it wrong are perhaps greatest for SMEs. Depending on your hiring needs, there are different recruitment types you can choose from.
With tighter budgets and fewer resources available, getting your decisions right the first time is vital. Competition for talent is fierce so having a streamlined and effective hiring process is integral if you want to have any chance of hiring the best professionals in your industry.
What you should look for, as an SME, when choosing your recruitment partner:
An agency that is committed to understanding your business goals - both long term and short term.
That agency should be prepared to represent you as if they were part of your company so that any applicants get an accurate depiction of the organisation they are potentially joining.
If necessary, the agency should recognise your desire to hire at a quick turnaround but be prepared to push back so as not to sacrifice quality of service, managing every stage of the hiring process properly.
It's beneficial to have access to a diversity of solutions which allow for an element of flexibility according to your specific requirements.
By partnering with a well-established, reputable recruitment agency, you can increase your exposure and boost your talent-pulling powers. Make the right decision and you'll attract the best professionals, giving you the one-up on your competitors!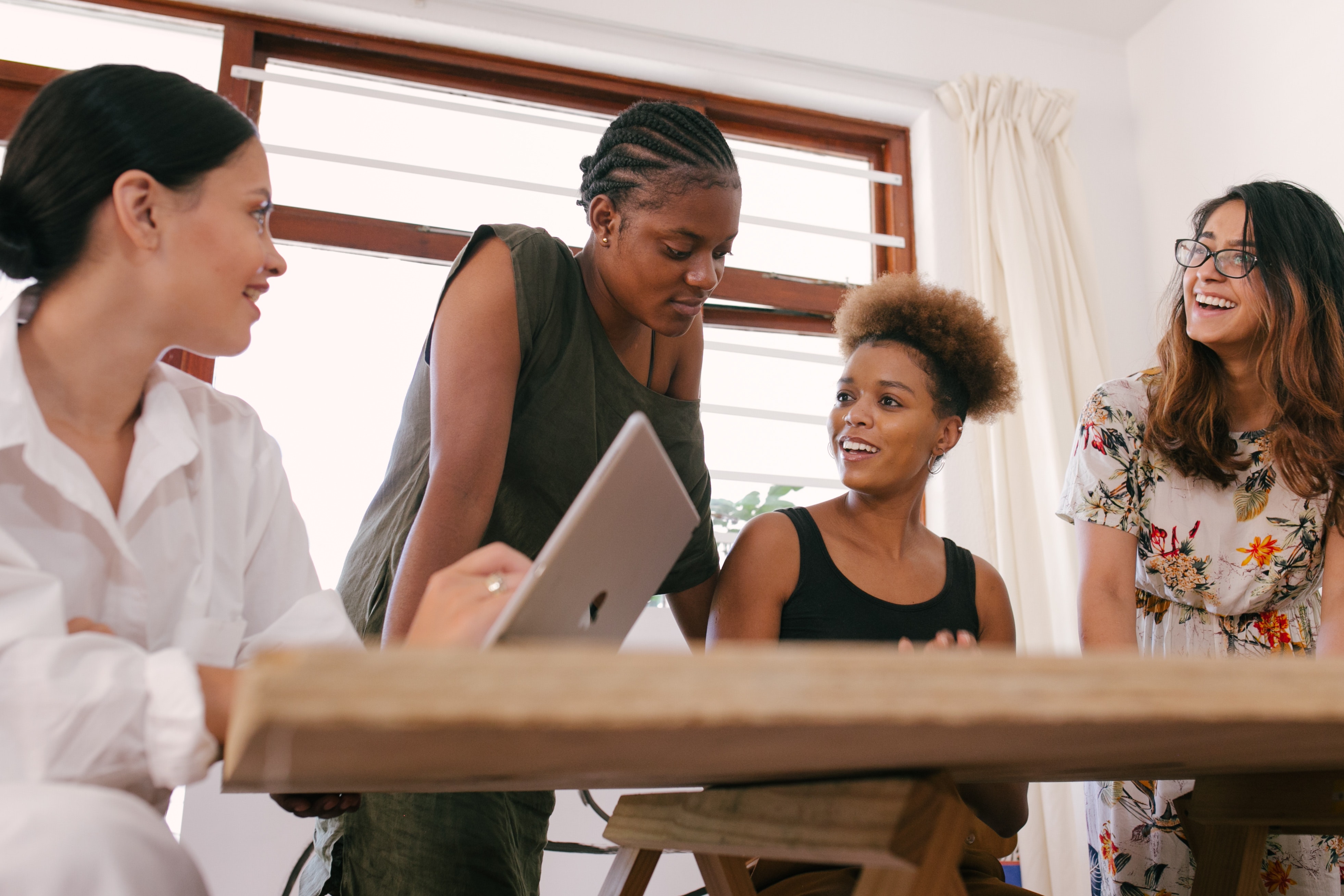 10. Still unsure how to choose the best recruitment agency for your needs?
We've taken you through what a recruitment agency really does, whether you need to use one if you have an internal team, what benefits you can reap from partnering with an agency, the costs and risks of making a bad choice and what sort of agency SMEs should strike up a relationship with.
If you are still uncertain about whether or not your hiring could be elevated by the help of a recruitment agency, we are happy to discuss your specific business requirements with you in order to figure out what the best hiring route is for you. Simply get in touch today and a member of our expert team will gladly contact you for a chat!
If you do think partnering with a recruitment agency is the right option for your business and you would like to find out how Morgan McKinley can help you, please let us know a bit more about your organisation and the sort of job you are looking to fill.