11 Easy Ways To Encourage Remote Team Building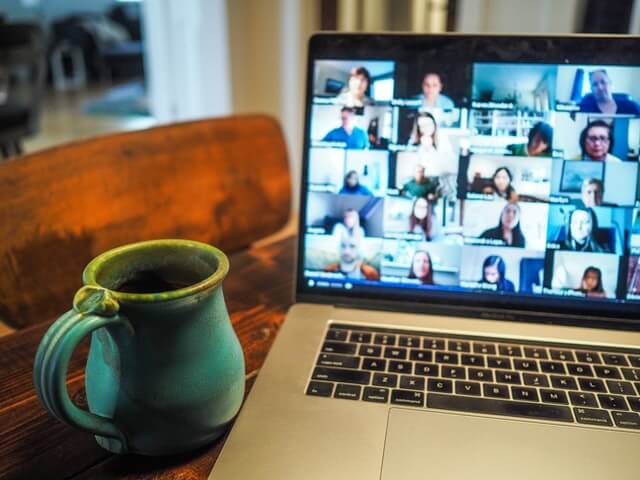 Team building is probably not high up on your list of priorities at the moment. But in tough periods, it's vital that you look after your workforce. With your teams dispersed across various locations (some may already be back in the office), facilitating remote team building activities is a great way to boost morale and ignite those spontaneous interactions which can decline when you're not all in the office together.
Whilst the recent mass 'work-from-home experiment' has been forced upon many by COVID-19 and the necessary government restrictions, there is a real possibility that a lot of businesses will not return to the same levels of office-based employees that they had before due to social distancing measures and other considerations. With proof that they can function efficiently without teams all being in the same building, the likelihood is that organisations will have a greater proportion of their workforce working remotely.
If a more flexible, remote working model is the future for your business, you will want to consider how to facilitate virtual team building to ensure you keep your remote employees engaged and connected. After all, your employees are your most valuable asset!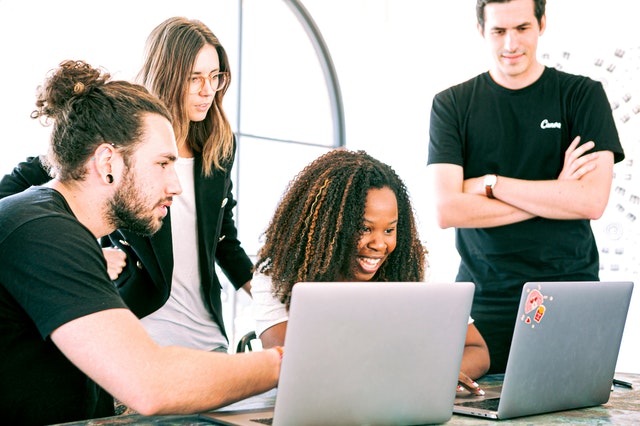 ---
What is remote team building and why is it important?
Remote team building is essentially making the effort to help your remote workers establish and maintain relationships with other team members. Keeping these employees, no matter where they are, collaborating as a tight-knit team means you can all reap the benefits of good communication, constant support and shared goals - and you will likely see your retention rates improve as well.
If you have new starters who have never met their colleagues face-to-face, forming relationships in a virtual environment can be difficult. And even if they have worked together in the office, maintaining that relationship requires constant attention - if you don't, remote employees can easily end up feeling isolated, unsupported and disconnected from their colleagues.
Conversely, if your remote teams feel a strong level of support, they will be much happier and more likely to work together in an effective way because they understand each other's strengths and weaknesses. When they need help with a task, there's no back and forth as they know exactly who can do what - this effortless collaboration often leads to more exciting end results!
Well thought out virtual team building activities also contribute to a strong corporate culture, which can be tricky to master when employees are working remotely.
Who does the responsibility fall upon to encourage remote interactions?
When you're working in the office, you're surrounded by your team for most of the day. It's natural that you form strong bonds with your colleagues - it doesn't really have to be conscious as it occurs over coffee in the kitchen or out on a lunchtime stroll. Any organised team building activities are often a reward for good performances or part of a training programme.
Things are a little different for virtual team building. To make any team building efforts work for remote employees, the manager needs to encourage individuals to make the most of them - with more people willingly participating, the virtual activities will help your team feel like more of a community.
Whilst it is the managers of remote teams who should be implementing the team building activities, anybody can come up with ideas to engage and connect remote workers. You could even ask your wider workforce to suggest team building exercises they would find enjoyable!
11 activities that can help bring your remote teams together
1. Create a virtual office - One of the primary differentiators between working in an office and teams working remotely is the lack of spontaneous interactions. Whilst they may seem like generic small talk or aimless conversations, they are actually a crucial aspect of team building.
This can be recreated virtually by encouraging teams to all work for an hour or so with their video on - it's not a meeting so nobody is obliged to speak, but if you have any questions, you can ask away as if you were sat next to each other.
2. Have team coffee/lunch breaks and don't forget the chit-chat - A virtual break room gives remote employees the opportunity to just catch up and chat about non-work related things like they would in the office communal areas. These light-hearted conversations are hugely important as they can really lighten the mood of remote workers who may be feeling isolated. Encourage each other to share small good news stories - what has made them feel happy in the last couple of days - this will make the team feel closer if they all celebrate these little moments of success or enjoyment together!
3. Ask your team members to give you a tour - If each team member gives the rest of the team a virtual tour of their 'home office', it will allow them to bond over any mutual interests. Do you have a dog or cat? Get them on screen! Is your toddler hammering on the door whilst you're trying to work? Let them in and introduce them to your colleagues!
4. Hold virtual company-wide events - Whilst this is beyond just team building, it has the same impact. Company-wide events are a great way of getting employees to mingle and interact - this shouldn't stop because you're not in the office! Hosting these sort of events can be done just as (if not more) easily over video conference.
5. Start a remote book club (or movie/TV club) - For those bookworms in your teams, a virtual book club will be a welcome remote team building activity. Not only is it a great way of fostering extracurricular interactions, it's also beneficial as it encourages critical thinking by getting team members to analyse the literature. Alternatively, for those not so keen on reading, do the same for movies or a TV series - it will have the same outcome!
6. Celebrate achievements together - You know how important recognition is; it's a key aspect of employee engagement and a contributor to high retention rates. When you can't praise a team member in person, you need to think of alternative ways to do so! Do you have a company platform where you could give them a shout out so all employees can see the great work they've been doing? Encourage other team members to reach out and congratulate them as well - praise from peers is just as meaningful as it is from management.
7. Encourage light-hearted competition - We all have a competitive streak. As much as many people deny it, it's there. Encouraging a bit of competition between your remote employees is an effective way of bringing them closer together. Set them up in groups and give them challenges - the winners get bragging rights! It doesn't have to always be work related tasks. You could do 'who can make the best cocktails' or even 'who can clock up the most running miles in a week'.
8. Virtual icebreaker games - An enjoyable activity could be some form of game - perhaps some online Pictionary or even office trivia. Even easier is to play 'imaginative' games - like the desert island scenario game. Split your remote employees into teams and then give them a list of items - as a team they can only choose three from the list that will help them when stranded on the island and they have to explain why they selected them. As well as being amusing, this demonstrates how working together helps achieve better results.
9. Get them to reach out beyond their 'inner circle' - It's natural to have 'work-mates', those colleagues who you are closer to than others. Whilst it's great to have these close workplace friends, you should encourage all remote employees to reach out to those who they aren't so close to as well.

Randomly pair people from across the business together and encourage them to have a 5 minute chat on video call everyday for the week, and then the next week change it up so they move onto someone else. This virtual rotating buddy scheme is a great way for remote employees to strike up relationships with those who they don't know so well!
10. Send out supplies to remote workers - This is a great way of boosting your employees' wellbeing. Sending out a care package of supplies or treats to your remotely based employees shows that you, and the business, care for them.
11. Try to recreate the Friday pub feeling - At the end of a long working week you and your remote teams should all kick back and relax with your drink of choice. When you clock off on Fridays, set-up an optional video call where you can socialise and get ready for the weekend - it's not quite the same as going to the pub together but it's better than nothing!
Whatever activities or methods you wish to use, virtual team building should help to boost morale, increase productivity and improve overall results.
Measuring the success of your remote team building activities
As mentioned above, listening to the opinions of your remote teams is the best way of optimising these activities. If it seems like they aren't really invested in your ideas, try to change things up a bit. What do they find valuable? What do they enjoy the most? Do they have any other suggestions?
It can be difficult to precisely measure the success of these activities, but if you do a comparison of before and after in terms of quality of work and productivity, you will be able to gauge whether they have had any influence. This said, you shouldn't necessarily measure it immediately against standards of work - if it improves their happiness and builds up team rapport, you will see the long-term benefits further down the line!
Every organisation will have different dynamics so there will inevitably be an element of trial and error - you need to find out what types of virtual team building activities work best for your people.