HR Business Partner
Job Summary
Athlone
Temporary
BBBH773292
Jan 13, 2021
€50k - €70k
Job Description
Our client based in Athlone is seeking a HR Business Partner to join their team on a 12 month contract to cover maternity leave.
HR Business Partner
Overall Purpose:
Perform all activities within the HR department related to recruitment, onboarding, compensation and benefits and employee relations. This also includes managing employee data, HR invoice auditing, Payroll administration, Benefits administration, to support the Ireland based employees, attendance tracking and assist the Accounting dept with various HR activities and projects.
Duties & Responsibilities:
Primary Responsibilities
Compile, audit, track all departmental data related to payroll, invoices and benefits
Responsible for Ireland monthly payroll input and checks alongside Finance.
Actively recruit and on-board new employees and maintain Candidate Management Recruitment database.
Completion of All Salary Surveys and Salary and Benefits benchmark to ensure market competitiveness
Administer all benefit Plans provided by the Company
Communicate HR information to employees by emails, voicemails, or conference calls
Coordinate all open enrollments for benefits throughout the calendar year
Coordinate any changes in benefit plans with Benefits Broker and Company Management
Manage Vendors associated with benefits programs
Managing wellness initiatives
Responsible for personnel files
Update and maintain all organization charts
Maintain all job descriptions and ensure all documentation is audit ready
Work with Finance on HR/payroll matters
Provide documentation to QA as the HR Compliance Liaison
Work with Information Services to keep the HR System Up to Date
Reporting
Other Responsibilities
Backup for HR Director for all HR related queries and issues.
Assists with employee relations issues.
HR liaison for Employee Communication Forums
HR Lead for Employee Survey Action Planning Groups
Assists HR Director in the planning, co-ordination and organising of annual team-building and company meetings
Other HR duties as required.
Additional Dimensions:
Strong administration skills required
Comfortable in a hands-on role and also partnering with the HR team - local and global in projects and initiatives
Detail driven and accurate data entry
Excellent attention to detail
Impartial and objective
Ethical and organised
Analytical and accurate
Effective communication and consulting skills
Credible dealing with all levels across the organisation
Excel/Powerpoint/Word proficiency
Time sensitive problem-solving skills
Active listening skills
Confidentiality and discretion
Qualification Requirements:
Education & Experience
Bachelors Degree, preferably in a related field.
8 + years of relevant experience in Human Resources.
Demonstrated knowledge of relevant employment legislation
Proven experience in managing benefits programs and salary benchmarking
In-depth experience in managing employee relations
Has strong HR Systems experience, preferably Workday
If you would like to discuss this opportunity in detail please contact Katie on 061 430 939.
BY APPLYING FOR THIS ROLE YOU ARE AGREEING TO OUR TERMS OF SERVICE WHICH TOGETHER WITH OUR PRIVACY STATEMENT GOVERN YOUR USE OF LA CRÈME SERVICES.
Consultant Details
Consultant Details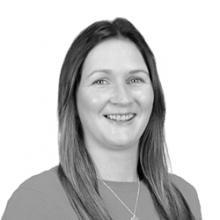 Katie O'Hara
Senior Recruitment Consultant | Multilingual, Sales & Marketing | Limerick
061430940
kohara@morganmckinley.com