Commercial Analytics Analyst
Job Summary
Dublin
Permanent
BBBH801341
Dec 08, 2021
Competitive
Job Description
Commercial Data Analytics Analyst required for a brand new permanent remote role. We have a matrixed structure here at Hostelworld; with Growth teams comprising of people across Technology, Product, M
ROLE TITLE: Commercial Data Analytics Analyst
LOCATION: Remote role
DEPARTMENT: Analytics & Insights (A&I)
EMPLOYMENT STATUS: Permanent
ABOUT US:
Hostelworld Group, the global hostel-focussed online booking platform, inspires adventurous minds to meet the world and come back with life-changing stories to tell. Our customers are not your average tourists, they crave cultural connection and unique experiences that we make possible by providing an unbeatable selection of hostels in unmissable locations - all in the palm of their hand. It is the social nature and community feel of hostels and their environment, that enable travellers to embrace journeys of discovery, adventure and meaning. We have more than 13 million reviews across 17,800 hostels in more than 179 countries, making the brand the leading online hub for social travel. The website operates in 19 different languages and our mobile app in 13 languages. Founded in 1999 and headquartered in Dublin, Hostelworld has a growing, high-calibre team of 230 people within Technology, Product, Global Markets, HR, Finance & Legal and Marketing Teams across our Dublin, London, Porto, Shanghai and Sydney offices. Hostelworld is listed on the London Stock Exchange and Dublin Euronext.
THE OPPORTUNITY:
The company's highly valued culture is characterised by collaboration, innovation, respect, communication and smart thinking. The senior management team has managed to maintain the positive characteristics of a start-up ethos, combined with a professional and mature approach to growing and scaling as a publicly listed business. Working at Hostelworld means working in a global company defined by an innovative culture, collaborative teams and professional growth; this is what we offer our employees. And, importantly, we recognise their efforts and reward their achievements.
THE ROLE & TEAM:
We have a matrixed structure here at Hostelworld; with Growth teams comprising of people across Technology, Product, Marketing and Analytics & Insights (A&I) - all working towards one common goal with aligned objectives. This role sits in the Analytics & Insight function but is aligned to the Supply Growth team which drives the Objectives & Key Results, day-to-day activity, and stakeholder relationships. The Supply Growth team nurtures the relationship Hostelworld has with our partner properties by working with them to maximise their performance on the platform and with our customers. The key focus areas are: market management; inventory assortment and pricing; promotions & merchandising; sort order and conversion; and other commercial incentives. The Supply Analytics & Insights team is the key business partner to Supply, driving:
target setting & incentives;
business and operational reporting;
commercial business cases and investment decisions;
process improvement stemming from data insights and needs.
The core toolset comprises Tableau for BI reporting and Snowflake / BigQuery for data storage & transformation, but the role also relies on the CRM systems used by Supply (Zendesk) as well as other bespoke internal tools. We are looking for someone with both a BI and commercial background who can improve our reporting stack and our thought leadership / commercial positioning with our properties.
The role reports to the Supply Analytics & Insights Manager.
WHAT YOU WILL BE RESPONSIBLE FOR:
Owning a subset of the Supply reporting landscape through: defining requirements; working with Data Engineering and the wider business to source the required information; modelling it in Snowflake / BigQuery; creating the reporting in Tableau; and performing the required documentation and testing.
Working with key Supply stakeholders to understand & measure the online booking platform and wider travel market in order to identify insights & opportunities to improve Hostelworld's position & offerings
Developing and driving process and system improvements within the wider Supply team to improve the quality of the reporting and insights delivered by the Analytics & Insights team.
Leading certain projects through the full lifecycle of initiation to closure
Contributing to wider Analytics & Insights functional improvement initiatives
WHAT WE'RE LOOKING FOR:
4+ years' experience in an analytical role, preferably in a digital/e-commerce business or consulting
Familiarity with technology, travel or two-sided market organisations
Commercial awareness and drive to use data to deliver tangible business outcomes
Excellent analytical and problem-solving skills
Familiarity with Tableau or other similar BI reporting tool
Familiarity with CRM systems including their uses, processes and value-add
KPI, information model and performance management experience
Project management and delivery experience
The ability to abstractly design and communicate concepts before applying them in a system
Practical understanding of multidimensional modelling, data warehousing concepts and methodologies, and how BI tools interact with the underlying data.
Demonstrated ability to translate a question into a visualisation which provides insight, answers the question, and can be reused / adapted
Demonstrated experience of writing and optimising SQL queries
Process improvement and governance experience
Excellent exceling modelling skills
Excellent PowerPoint based storyboarding and presentational skills
Ability to work under own initiative or as part of a team
Fluent English is essential (both spoken and written)
PERSONAL QUALITIES:
Customer & Property obsession: Start with our stakeholders and work backwards
Ownership & Leadership: You take pride in what you do and ownership for finding solutions to business challenges
Great collaboration: You work in support of the team agenda, collaborating effectively and with respect at all levels of our organisation
Bias towards action: Has an urgency to be first to market and takes calculated risks
Results driven:Relentless focus on the key inputs to deliver the desired results
Pace: Ability to cope with change and ambiguity. Comfortable with a 'test and learn' mentality
Metrics Driven: Will be data driven in assessing performance
Culture fit: Down to earth, results-focused, pragmatic, diplomatic, passionate, creative, high energy, smart, collaborative, transparent, motivated, entrepreneurial, high integrity, commercial and flexible
LIVE OUR VALUES:
Think Customer - We take every opportunity to connect with those on the road.
Be Bold, Be Brave, Be Adventurous - We explore the new and our journey is ambitious.
Keep it Simple - We're smart and agile, always taking the clear route to our destination.
Community Spirit - We collaborate with people from around the globe, communicating honestly with energy, passion and curiosity.
Build a Better World - We value equality and diversity, using our collective energy to promote understanding.
We welcome applications from all backgrounds and commit to ensuring equal opportunities for everyone.
Click here to learn more about the Hostelworld offering and other jobs they are offering.
IMPORTANT PRIVACY NOTICE
By applying to this Hostelworld position, you consent to Morgan McKinley contacting you as recruitment partner on behalf of Hostelworld. When Morgan McKinley contacts you on behalf of Hostelworld it will be acting as a data processor and the Hostelworld Privacy Policy
shall apply. It is also important that you understand that by registering your CV for these Hostelworld positions, you will be automatically registered on the Morgan McKinley database where you may be contacted by Morgan McKinley about other opportunities at any time. If and when Morgan McKinley contacts you for other opportunities it is doing so as a data controller. Please see our Privacy policy to understand how we will process your personal data. If you wish to opt out of the automatic registration to the Morgan McKinley database when applying for Hostelworld positions please email privacy@morganmckinley.com
Morgan McKinley is acting as an Employment Agency and references to pay rates are indicative.
BY APPLYING FOR THIS ROLE YOU ARE AGREEING TO OUR TERMS OF SERVICE WHICH TOGETHER WITH OUR PRIVACY STATEMENT GOVERN YOUR USE OF MORGAN MCKINLEY SERVICES.
Consultant Details
Consultant Details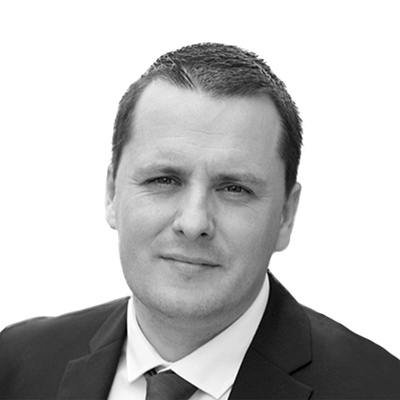 Andrew Meehan
Principal Consultant | IT Recruitment
353 (0) 1 4321555
ameehan@morganmckinley.com